The Advantage Koi Storage System
A clever solution to a real problem when building a new koi pond.
Most of our customers really love their koi. These koi become both beloved pets and part of their family. This creates a real problem when they decide to move to a new house with no existing pond or they decide to rebuild their existing pond in the same location. The problem is where can they store their existing koi while they build a new? 
The solution is the "Advantage Koi Storage System." 
This is a serious koi holding tank designed to last up to two years and is a perfect compliment to the Advantage Plug and Play filtration system. The whole tank can be set up in about 1 hour without any gluing. See installation video below.
This tank was specifically designed to operate with our Plug and Play Filter systems. Each year we work with well over a hundred different customers around the world designing their new custom koi pond, many of whom already have koi. If they don't already have arrangements for storing their koi during the construction of their new pond, we have a suggestion. Once we are far enough along with their new pond plans to be able to tell what size filter system they will need for their new pond we then have an option available to them. They are going to have to purchase the filtration system for their new pond eventually. If they purchase the system in advance along with the Advantage storage tank their koi storage problem is solved. When they couple these together, not only will they have a great holding system for koi, they will also have a biologically mature working filter system to install on their new pond when it is finished. Transferring koi to a brand new pond can be very stressful on them. Having a mature filter system that removes all the ammonia and nitrites right from the start can cut that stress down considerably. 
This tank is designed to make the transition from one pond to another as smooth as possible for both the koi and their owner. Also when you are finished with the transfer of your koi, you still have a 1,000 gallon pond that can serve as a holding tank or a quarantine tank if needed in the future.
1x) 1,000 gallon vinyl tank liner kit with metal frame
1x) Advantage bottom drain with 9" Air diffuser
1x) Skimmer
1x) Autofill
1x) All plumbing comes preassembled
1x) Removable net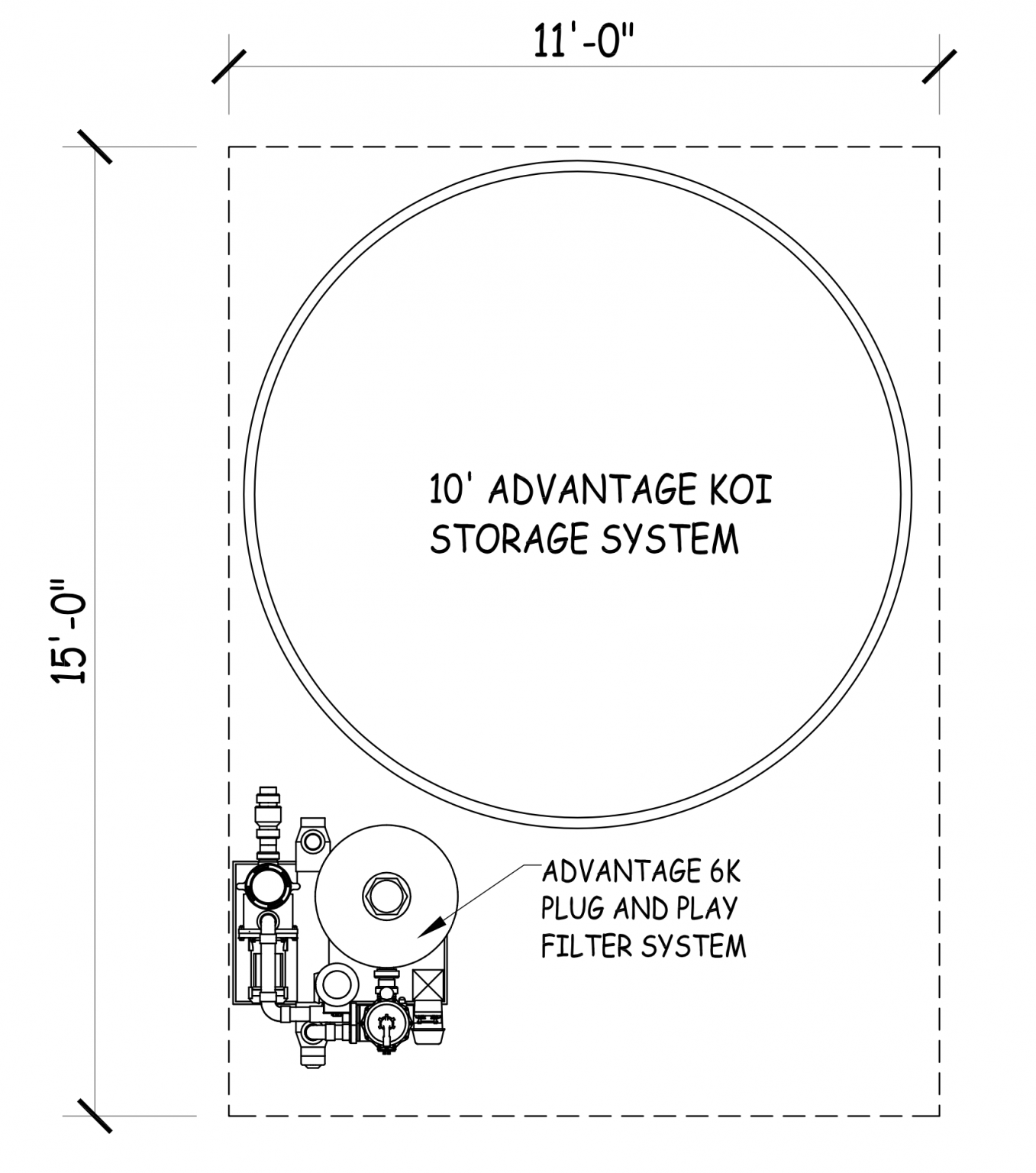 Minimum space requirements.
With additional 2" PVC pipe and fittings, equipment can be placed anywhere within 75' of storage tank.
Storage tank is not recommended to be placed where water has the potential to freeze.